The IDEA OF A LOGIC PRIZE IN A GIVEN COUNTRY, say SMURFLAND, is:

(1) To encourage the development of logical research in Smurfland.
(2) To foster interaction between people having interest for logic in Smurfland.
(3) To make better known logic among researchers of all fields in Smurfland.
(4) To make the work of logicians in Smurfland better known outside of Smurfland.
(5) To develop, promote and make better known logic in the world.
HOW TO ORGANIZE A PRIZE OF LOGIC IN SMURFLAND:

(1) Decide who will organize the prize and find a name of a famous logician of Smurfland for the prize.
(2) Name a Jury of important logicians representative of the various tendencies and geographical locations of Smurfland.
(3) Circulate a Call for Papers in Smurfland with a deadline, not too close but not too far, e.g. December 1st, 2021.
(4) The Jury of Smurfland chooses the winner
(5) Attribution of the prize : publication of the paper of the winner in Logica Universalis + participation to UNILOG'2022 in Crete.
The prize of logic in Smurfland is open to anybody living and working in Smurfland. There are no restrictions of age, sex, race, nationality. The contestants only need to live in Smurfland and be affiliated to a University (or other educational institution) in Smurfland.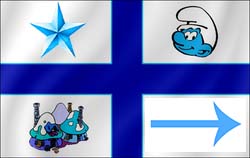 If there is a logical association in Smurfland, this association can organize the prize. If there is no such association of logic in Smurfland, it is a good opportunity to create one. If it is too complicated to do it immediately the prize can be organized to start by an already existing group of logicians of Smurfland. Financial support: Smurfland will support the travel of the winner to Crete for UNILOG'2022. UNILOG will support the accomodation of the winner of the logic prize of Smurfland at UNILOG'2022 in Crete and will waive the registration fee for the winner.
★ &nbsp LIST OF LOGIC PRIZES ★
| | |
| --- | --- |
| COUNTRY | NAME OF THE PRIZE |
| | |
| | |
| | |
| | |
| | |
| | |
| | |
| | |
| | |
| | Iranian Logic Prize |
| | |
| | Arthur Prior Logic Prize |
| | |
| | |
| | |
| | |
| | |
| | |
| | Taimanov Logic Prize |
| | |
★ THE FIRST WORLD LOGIC PRIZES CONTEST
WAS ORGANIZED AT THE 6th UNILOG IN VICHY IN 2018 ★
★ THE SECOND WORLD LOGIC PRIZES CONTEST
WILL BE ORGANIZED AT THE 7th UNILOG IN CRETE IN 2022 ★